12 Oct 2021
What is the world's most abrasion-resistant fabric?
If you are designing a product that depends on safety and flexibility under extensive wear, then you will likely need a reliable abrasion-resistant textile. But which is the most abrasion-resistant fabric on the market right now? 
Abrasion is the wearing, grinding or rubbing away of a material by friction. An abrasion-resistant fabric resists such surface wear and can be used as a protective layer to extend product life or reduce risk of harm to people wearing it. Such fabrics are used across a range of industries with applications from backpacks and motorcycle apparel to reinforcement in the aerospace industry.
How is abrasion resistance measured?
Firstly, there is an innate difficulty in comparing the abrasion resistance of different materials as there is no consensus on testing methods. The most commonly used tests are the Martindale, Wyzenbeck and Taber, so it is important to establish which test has been used as the number of "cycles" it takes for the fabric to show wear is not comparable from test to another. 
In the UK and Europe, the EN388 standard measures the performance of textiles for blade cut resistance, tear resistance, puncture resistance and abrasion resistance. The latter comprises four levels (levels 1-4) with the fabrics most resistant to heavy rubbing awarded level 4. The minimum test results required for each level are listed below. A fabric which shows signs of wear after 750 cycles (between 500 and 2000 cycles) would be awarded level 2.
The progression between each level is significant. A fabric awarded level 2 is up to five times as resistant to wear as a fabric awarded level 1. A fabric graded level 3 offers four times the resistance of a fabric at level 2. For fabrics with multiple layers, the abrasion resistance level derives from the most resistant layer, not the combination of layers.
Kevlar®
Kevlar® is a brand name synonymous with high protection. DuPont™ engineered it in the early 1970s, from synthetic aramid fibers, and offers cut and is traditionally bright yellow in colour. The material is commonly used in applications requiring cut, abrasion or impact resistance, including body armour, bulletproof vests, protective gloves, and reinforcement in boats and aircraft. While it is renowned for its strength and durability, it is also one of the most expensive materials on the market.
Kevlar is also often used as a component in combination fabrics such as ARMORTEX® Developed by Nam Liong in Taiwan, ARMORTEX® contains synthetic fibers such as nylon, polyester and spandex and is reinforced with Kevlar® fiber for added strength. It is commonly used in protective clothing for forestry, waste recycling and manufacturing, as well as extreme sports.
CORDURA®
CORDURA® also offers a range of globally-renowned durable fabrics, known for its toughness and comfort. Original CORDURA® is a woven fabric from high tenacity nylon and found in military, sports and leisure products including clothing, boots, tactical gear and backpacks. However, like Kevlar, the price of Cordura is a limiting factor for product designers and it is the reason it is more commonly used in high end outdoor bags and apparel. 
How does Kozane® compare?
Kozane® Invicta  not only offers EN388 Level 4 abrasion resistance (the highest possible level) but during testing only showed signs of' moderate wear' after 8,000 cycles. The fabric also offers the highest possible levels of both tear and puncture resistance, which makes it ideal as a protective layer against rugged surfaces such as rock, gravel and asphalt.
Developed by Granberg's award-winning design team, Invicta is flexible, breathable and smooth against the skin, offering optimum comfort for the wearer. It is also fully washable, allowing applications as diverse as motorcycle apparel, footwear, luggage and backpacks, tactical gear, camping equipment and military apparel. We compared several garments incorporating leading fabrics against INVICTA's high performance.
EN388:2016 Abrasion Resistance Level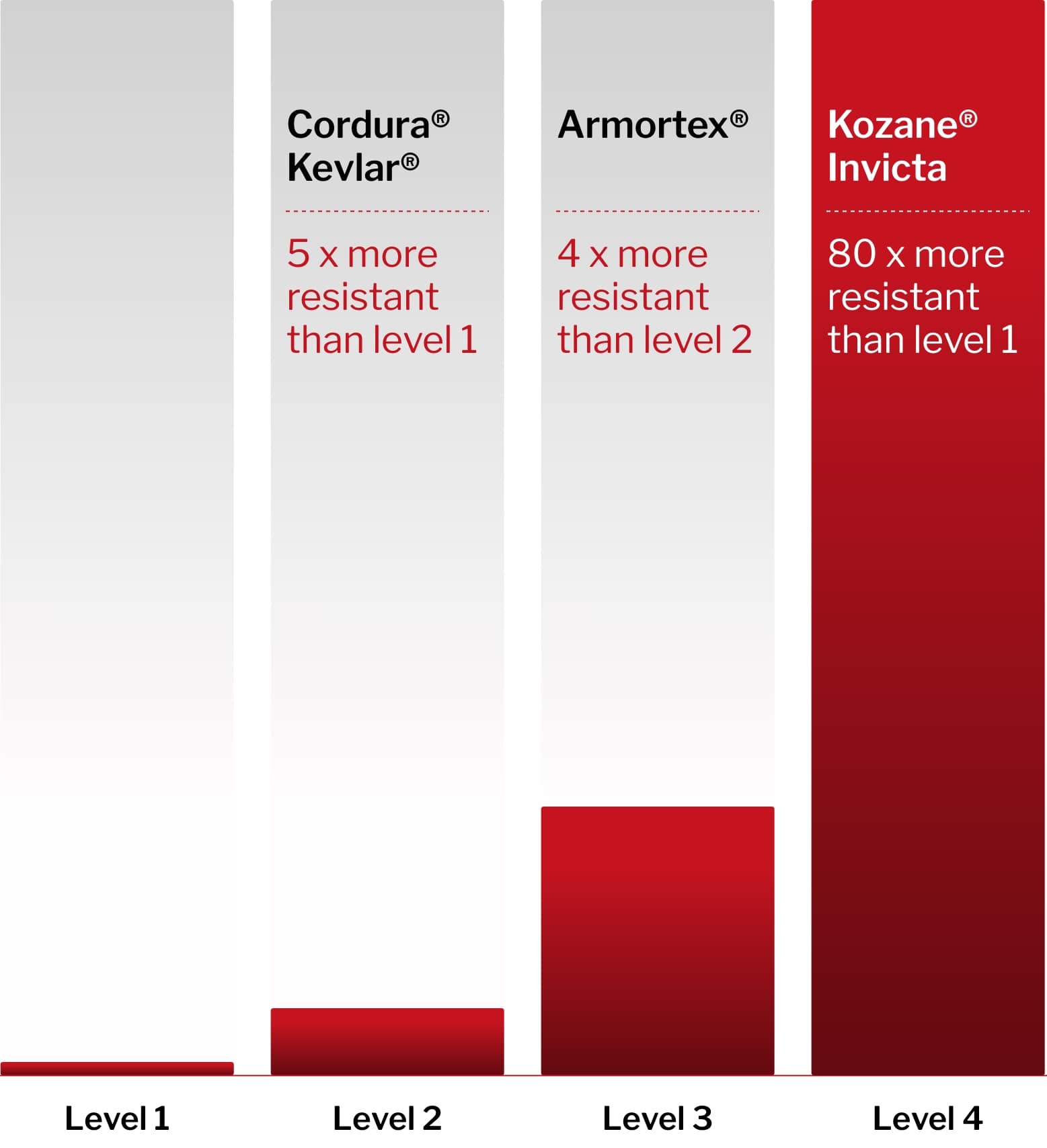 It is important to note that test results and abrasion-resistance levels are a guide to influence your choice of fabric and should not substitute real-world testing. The way textiles respond in testing conditions is very different to how they respond in everyday use.
Designed specifically for motorcycle safety apparel clothing, Kozane® Terra fabrics achieve the maximum protection according to EN 17092-2/: 2020 (EN 17092-1: 2020) Impact Abrasion at 120 km/h, level AAA. Soft, lightweight and breathable, they are ideal as a liner fabric for motorcycle trousers or jackets, or on their own to manufacture abrasion and tear resistant clothing.
At Kozane®, we will always work with you to ensure you are able to make the best possible decision about your application and project.  Contact our representative Eve Lamb on +44 (0)7599 546 566 or email at eve.lamb@granberg.no to discuss your application.
For a guide to cut resistance standards, download our guide: https://www.kozaneprotection.com/global-cut-standards-en388-ansi-105/