18 Oct 2023
Launching Kozane® by Granberg Protective Garments
Granberg AS, the well-established Norwegian glove manufacturer with a worldwide client base and a continued focus on product design and product development, is the creator behind the Kozane® range of high-performance fabrics. With more than 60 years of experience protecting workers in challenging conditions, Granberg has been producing and selling work gloves in many parts of the world. Taking the next step forward, Granberg is launching a range of cut resistant garments – Kozane® by Granberg, combining unmatched protection with comfort. 
Who is Granberg
At Granberg, we are genuinely passionate about what we do: helping people feel safe. This driving force keeps us up to date, motivating us always to learn more and keep developing. Also, with a courageous mindset, we are not afraid to explore uncharted ways to find new, better solutions that lead the industry forward. Overall, we have helped inspire and provide protection in workplaces in the manufacturing industry, in the private sector and the public sector. As a result, our products are engineered, designed, and manufactured using the latest technology and the most advanced materials. All of this made it possible to recruit the best talents and develop the strongest brands in the industry. Patented materials, products, and innovative solutions that best serve our customers are what we are and who we are.
Kozane® Protective Garments
The Kozane® Range of Protective Garments was created due to continuous demand for high cut resistance and elevated comfort. We decided to take on this challenge and fill the gap in the market with a selection of carefully designed, CE certified garments, meant to not only protect the wearer from injuries caused by sharp tools, materials, or weapons, but also to feel comfortable and breathable.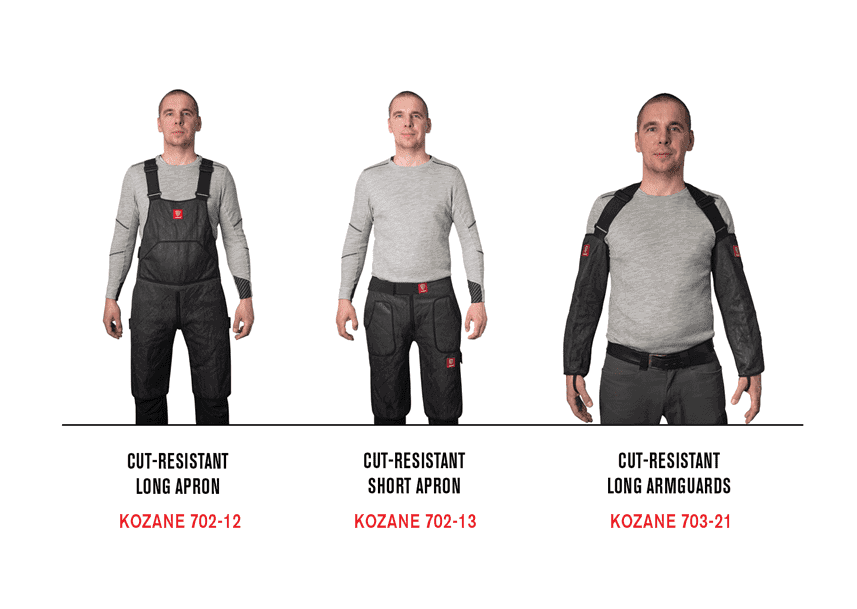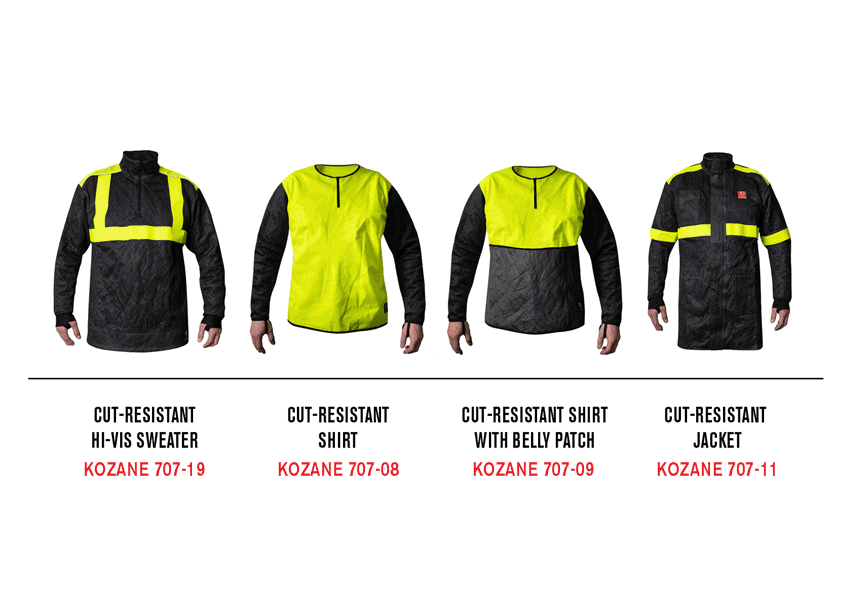 We chose the Kozane® Extreme high-performance fabric, offering the optimum combination between outstanding levels of protection and comfortability. This makes it perfect for cut-resistant garments in high-risk industries. It features the highest possible levels of cut, puncture, abrasion, and tear resistance. What's more, it is also the most lightweight high-performance fabric of its class, weighing only 375 gr/m2. The unique three-dimensional knitted fabric combines a high-performance top layer which effectively prevents injuries from severe cuts and lacerations, with a soft polyester bottom layer for optimum comfort and protection. Consequently, Kozane® Extreme is stronger than traditional aramid fibres, such as Kevlar, Twaron and Nomex, and it continues to perform even in contact with moisture or under ultraviolet light exposure. 
Suitable for:
Glass handling and manufacturing
Paper/Pulp processing
Industrial manufacturing
Automotive
Building and Construction
Recycling
Security
Mining and Metals
Checkout Kozane® Protective Garments Catalogue here.