03 Mar 2023
How to use our High Performance Fabrics for PPE manufacturing
Hazards exist in the workplace in many different forms. Professionals working in high-risk environments can face threats from sharp objects, heat, fire, metal sparks, toxic substances, viruses, etc. They require reliable Personal Protective Equipment (PPE) to keep them safe from potential dangers or reduce the severity of injuries.
Aside from providing maximum protection, fabrics used in PPE manufacturing must be compliant with government and industry standards for workplace safety. It is important to determine the right type of fabric depending on the environmental and workplace hazard. However, with so many professions requiring PPE, it can also be difficult to determine which is the right fabric for your work environment.
The Kozane® range of high-performance fabrics is the result of over 61 years of experience in protecting workers in challenging conditions – under Granberg, an award-winning Norwegian company. We have a clear understanding of the high-risk hazards that workers face in their jobs and how they can vary depending on the industry they belong to.
Kozane® Pyro is an exceptional three-dimensional knitted fabric that combines a high-performance top layer with a soft polyester bottom for optimum comfort and protection. It offers outstanding cut, puncture, abrasion, tear and contact heat resistance, making it suitable for a variety of PPE applications such as arm guards, aprons, chaps, trousers, to be used in the glass, car manufacturing or metal fabrication sectors. It's also perfect to use as cut and heat resistant lining for gloves and as protective clothing for the Security, Police and Military – it can be personalized with a camouflage print.
Kozane® Pro the lightest in its class, offering high cut, abrasion, tear and puncture resistance while still being a breathable and soft fabric. It combines two independent layers connected by absorbing yarns that makes it soft and flexible, suitable for comfortable protective clothing. Used across a range of sectors, it's ideal for applications requiring lightweight and discreet protection. It is also perfect for extreme sports apparel – speed skating, hockey, speed boating, etc.
Kozane® Extreme offers an optimum combination between the highest cut resistance levels and wearability. It is breathable and soft and designed primarily for garment manufacturing across many different sectors, making it perfect for cut-resistant garments such as sweaters, vests, chaps, aprons, arm guards or trousers for high-risk industries or the law enforcement and military. The lightweight feature of this fabric means it can also effectively be incorporated into arm cuffs and other protective clothing to provide discreet protection for mental healthcare and special education professionals.
Kozane® Invicta features outstanding tear and abrasion resistance with added puncture resistance. This is our most durable fabric, suitable for extreme wear and tear applications such as footwear, outdoor equipment, motorcycle apparel, backpacks, military applications, etc. where durability is the key feature. It can also be successfully used for tear-resistant clothing and beddings for mental health and prison/corrections.
Kozane® MOTO is specifically developed for motorcycle safety apparel clothing, and it achieves the maximum protection according to EN 17092-2/: 2020 (EN 17092-1: 2020) Impact Abrasion at 120 km/h, level AAA. Soft, lightweight and breathable, it is ideal when used as a liner fabric for motorcycle trousers or jackets, or on its own to manufacture abrasion and tear resistant clothing.
Kozane® Supreme reaches the highest possible cut resistance level according to the American Standard ANSI ASTM F2992-15, for knitted fabric, previously only achieved by chain mail – ANSI A9. It also offers the highest abrasion, puncture and tear resistance levels, making it suitable for applications across a wide variety of sectors such as PPE for glass and metal fabrication, car manufacturing, mining, recycling, but also sports and leisure, and the security and military sectors as well.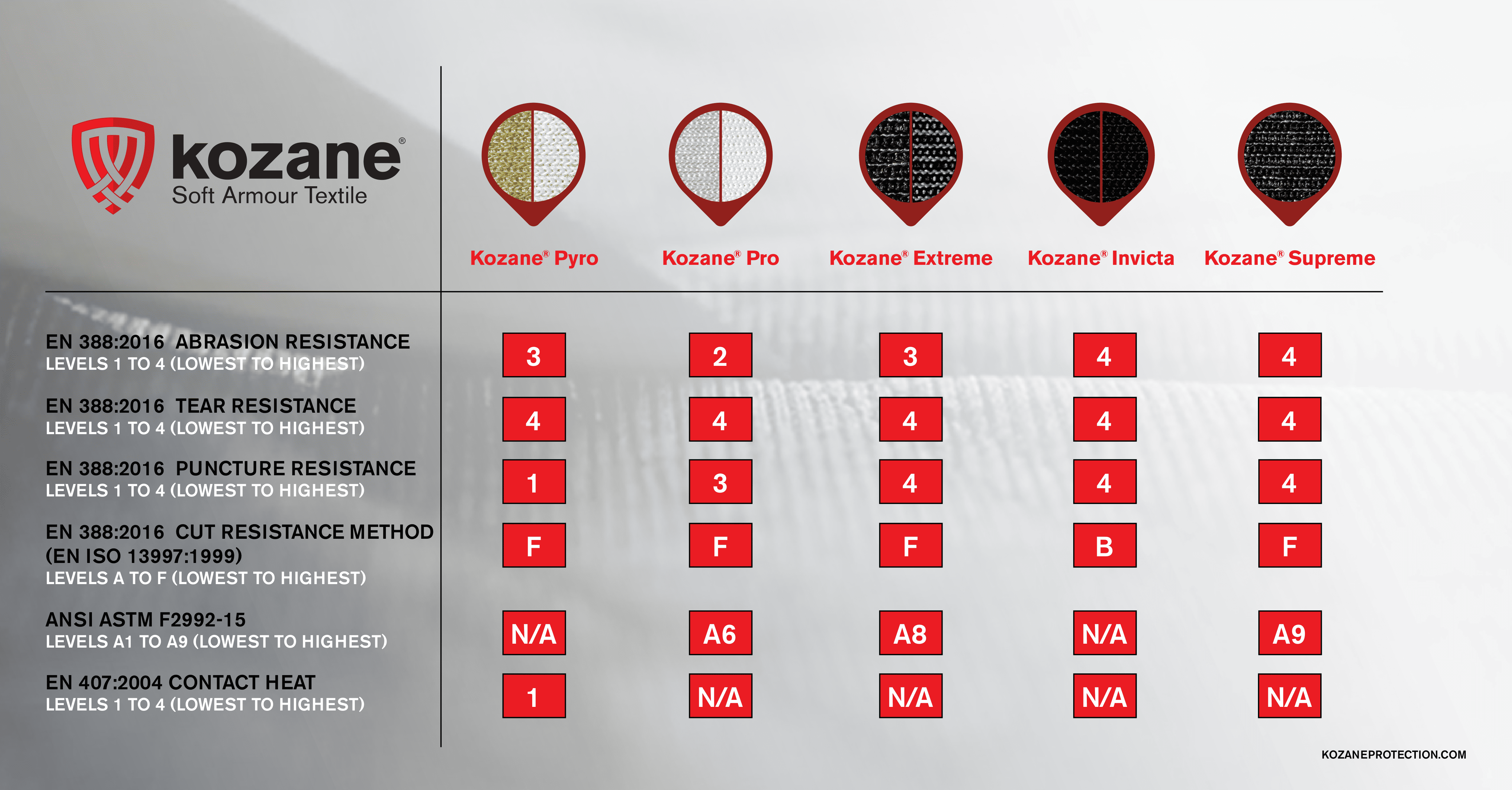 If you would like more information on how we can assist you in choosing the correct high performance fabric for your PPE, please contact the Kozane® representative Eve Ichim, Tel: +44 (0)7599 546 566 Email: eve.ichim@granberg.no