10 Feb 2022
Choosing the Right Fabric for your PPE
Personal Protective Equipment or commonly known as "PPE", is any equipment worn to minimise exposure to hazards that cause serious workplace injuries and illnesses. Having this in mind, we must consider several important factors in choosing the right fabrics for PPE manufacturing.
Kozane® understands that depending on the industry, there are certain hazards and threats you are exposed to. Our range of high-performance fabrics is the product of a multi-award winning Norwegian company, Granberg AS, with over 60 years of  experience in protecting workers facing challenging conditions.
Industrial
High-risk industrial environments, such as glass and metal manufacturing, car manufacturing, food processing, forestry, mining, waste management and recycling, are widely exposed to cut hazards.  Kozane® Extreme and Kozane® Pro, as well as and Kozane® Aqua specifically for the food sector (meat processing and packaging), are fabrics which can be used to create a variety of cut-resistant PPE, from cuffs and sleeves to full-body overalls.  For additional heat resistance, Kozane® Pyro offers EN 407:2004 Contact Heat Level 1, in addition to very high cut resistance. These are applicable for  aprons, chaps, arm guards, shirts, trousers, etc., to address specific health and safety needs.
Military, Law Enforcement and Security
Frontline professionals in the military, law enforcement, homeland and private security, prisons and corrections are exposed to injuries from sharp blades and knife attacks which may pose life threatening risks.  Kozane® Extreme and Kozane® Pro both offer a great combination of outstanding levels of protection and comfortability, which makes them suitable for various cut-resistant PPE such as neck guards, balaclavas, arm guards, shirts, jackets and trousers which can be used in conjunction with their existing body armour.
Mental health and special education
Working with vulnerable people, particularly those presenting challenging behaviors, means healthcare and special education workers can be at great risks from bites, pinches or scratches. Kozane® Extreme and Kozane® Pro with their cut, tear, and puncture resistance features, can be effectively incorporated into arm guards, shirts and other garments to provide discreet protection that can be worn all day. On the other hand, care professionals are not the only ones exposed under this category. Even patients or service users can be at risk, particularly those who are prone to inflict self-harm. This was the concept behind the design for the Kozane® Invicta fabric, offering extremely high levels of tear resistance, as well as puncture and abrasion resistance. It is currently being used as protective garments and bedding for vulnerable patients, perfect for its practicality and comfort.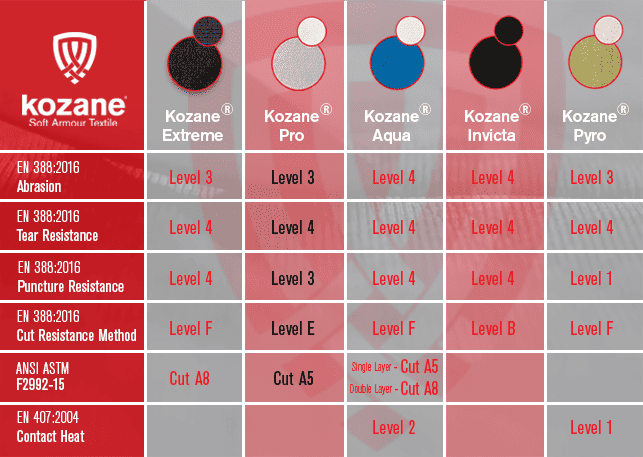 If you would like more information on how we can assist you in choosing the correct fabric for your PPE, please contact the Kozane® representative Eve Ichim
Tel: +44 (0)7599 546 566
Email: eve.ichim@granberg.no