19 Oct 2023
Kozane® Terra – The latest innovation in impact abrasion for motorcycle apparel
High market demand for lightweight protection
At Kozane®, we are genuinely passionate about what we do: helping people feel safe. This driving force keeps us motivated to always to learn more and keep developing. With a courageous mindset, we are not afraid to explore uncharted ways to find solutions that lead the industry forward. We have helped inspire and provide protection in the manufacturing industry, security, extreme sports, and many others. As a result of continuous demand for lightweight, impact abrasion resistant fabrics for motorcycle apparel without compromising on comfort, we decided to respond to this challenge and fill the gap in the market with a selection of high-performant fabrics called Kozane® Terra. 
Our innovative solution – Kozane® Terra
We developed the range in collaboration with motorcycle apparel manufacturers. The aim was to address the market's need for lightweight impact abrasion resistant fabrics for motorcycle apparel, combining high-performance with wearability. As a result, Kozane® Terra fabrics can offer outstanding protection compared to conventional clothing, feeling soft against the skin, breathable and light, providing the best possible protection against rips and tears should the worst happen. 
The range includes options varying in weight, colours, and protection levels, ideal for manufacturing trousers, tops, or gloves, or as protective liners. 
Comparison table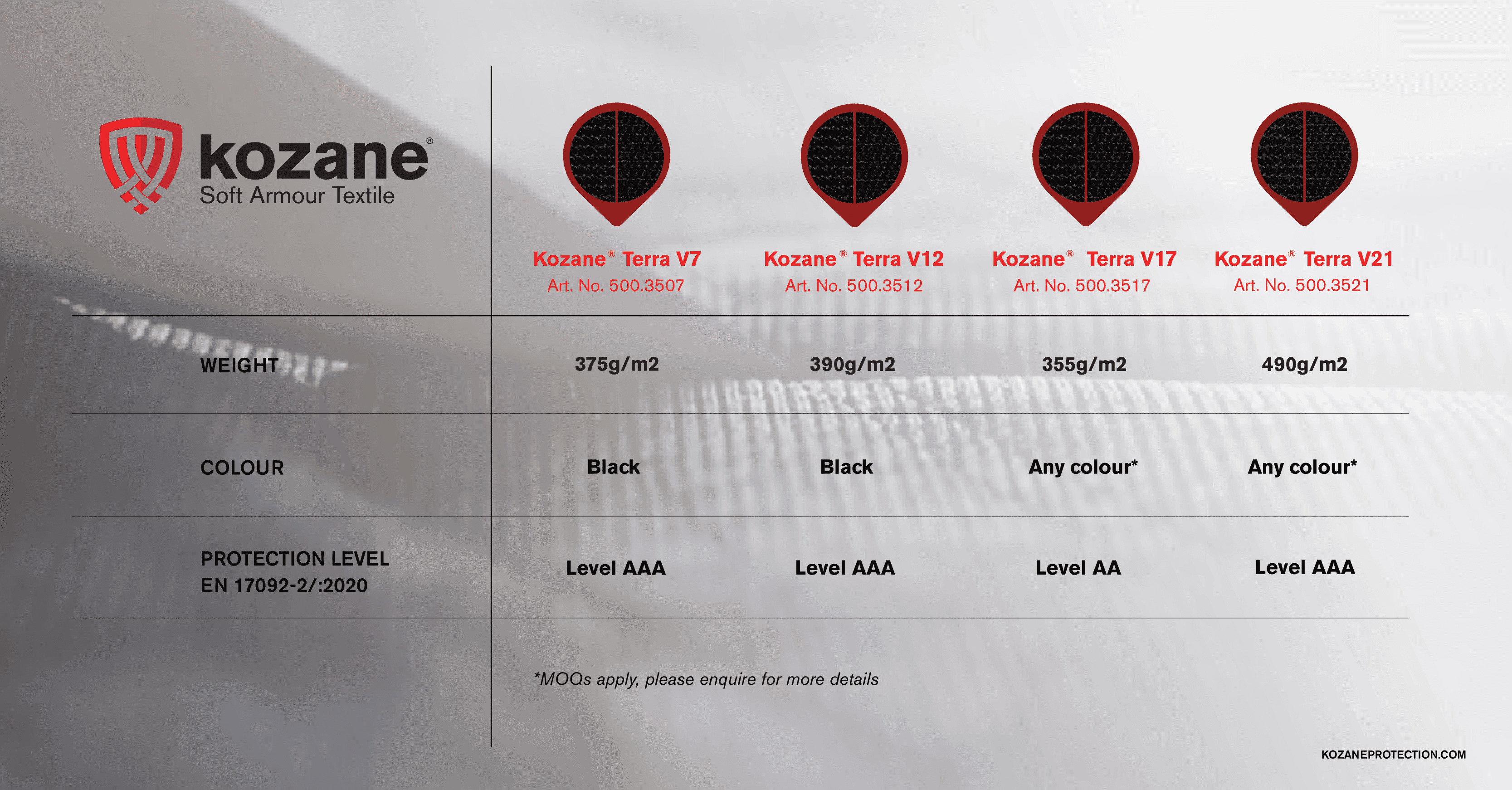 All fabrics are tested according to the EN 17092-2/: 2020 Impact Abrasion at 120 km/h. We achieved results from AA to AAA – the industry standard for motorcycle safety apparel. 
Other applications
A wider range of applications is applicable for the Kozane® Terra range of fabrics. Wherever there is demand for extreme durability and wear and tear, our fabrics can provide the solution. To name a few: durable footwear (ideal for activities like skateboarding or hiking), outdoor gear, or horse-riding apparel. 
Get in touch with our team today to explore if Kozane® Terra can be the game changer for your project!
For more information, or to request a technical specification, call KozaneⓇ's dedicated representative, Eve Lamb, on +44 (0)7599 546 566 or reach out via email to eve.lamb@granberg.no.